Fish keeping passion can fashionably take varied directions as fish number increases. Getting involved with some activities may not harm anything but things should be regulated. You are, therefore, surrounded by some good opportunities.
You may be asking do I need a license to sell fish from home.
Yes, you need a license if you are making bulk sales on a more frequent level. Building a personal website will make your business grow better while getting involved in the scene. However, if you are making small sales with less frequency, you don't need a license. 
There is a fruitful invitation to adhere to the best fish-keeping contests. Profits or not, your work with the awesome fish should not go unresolved. Keep reading the entire article to know why.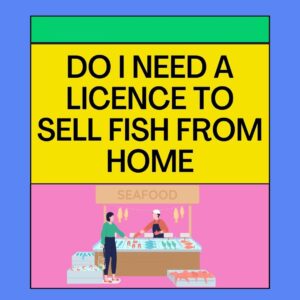 When You Need License To Sell Fish
If you are a local fish breeder or fish farmer, you need a license when selling it for business. You could be exploiting the prospects of where to sell your fish. 
If you are making your sale from home it means it's through online platforms. The real purpose of the sale is determined here. 
Let us, therefore, move forward considering why we are making the sale.
Bulk Sell
When the fish inside your tank reproduce more fish, you want to get rid of the denseness. At a certain scene, you can get encouraged to sell quite often.
When you are selling more often in bulk amounts, you would have incoming profits. For this, you need the right license for selling fish. More specifically you will need the FSSAI license to represent your sale through a legal entity. 
It also depends on the local law on what kind of permit you require. For example, in California, you need a Fisherman's Retail License. Similarly in Missouri or most states, you'll need a commercial fishing license issued like the one below:
A question would be what are the benefits of having a fish-selling license?
The license would help you develop a portfolio as a business owner. The benefits would be two-fold where you can get rid of the excess with some profit. This easily means that you won't run into hassles regarding unwanted fish. Securing connections will make things easy over time. 
Selling fish means you are getting rid of building more tanks for extra fish. This is not only saving you money but making you gain some profits as well. 
Good profit comes with some healthy investments. Attract good retail value with some adjustments. You won't be disappointed!
Personal Website
Without running you want to sell fish from home. This means selling fish online. You must have built a platform and this is done with a personal website.
Your passion for fish breeding can take an upward route. This means you are going into detail by personalizing a website. The FSSAI license will help you in this regard.
You can attract dealers alongside retail and wholesale sales contacts. Passion can easily turn into business at certain times. This is why the license is actually needed so do get a dealer permit. 
When you do so, you may be regularly inspected by the Department of Public health. So, make sure you are doing the right maintenance with your aquarium. Regular disposal of water from tanks is an essential thing to do.
Make the most of the good products that you have to build a good fishing environment. Success truly comes with good quality. 
When You Don't Need License To Sell Fish
You don't need a license to sell fish when you are not making bulk sales. The number of fish you want to sell is probably a few in numbers. Also, the frequency of sales is not that high.
For this, you don't need a pet shop license. You don't have to go overboard attracting connections with retailers and wholesalers.
Your presence on online platforms is going to do the job. 
Social Media And Forums
On all the social media platforms, you are going to find some good people. All of them can have the same passion as yours. There you will be a discussion topic on all angles of fishkeeping. 
This does not leave out the forums as well. You would be meeting the right people to sell your fish. Just write down I want to sell my fish and see what happens. You will be finding more people who are interested in buying.  
The prospect is similar to selling any second-hand items at home. This is absolutely not a business deal and so, no license is required. 
Local Aquarium Clubs
Joining a local aquarium fish club does not mean you have to go out of your home. You can still be selling aquarium fish from home. Things will be much more relaxing and easy. 
Perhaps the fish clubs have forums and social media pages. In contrast, effective communication can also help you. The benefits of being part of an aquarium society are multi-faceted. 
This can take you a long way when you keep socializing. Never ignore any invitations to meetings at clubs and bars. Have a good time alongside some people who think the same as you.
You can easily find buyers who will buy your fish from the fish communities or local aquarium clubs. As you're not a commercial seller, you can easily sell fish through a common interest.    
Best Aquarium Fish Selling Tips And Ideas
When your involvement in fish selling takes different longer roots, you can do a few things. There is a chance you can become a professional in no time. Gathering some necessary people and items around, you can apply some good measures.
Here are some useful tips you can apply in your endeavors: 
Encourage cultivation for micro worms growth that takes out fungal bacteria
Clay pots and plant selling alongside fish is a great idea
Install a new tank for new fish to sell the entire construction later
Employ regular and proper maintenance with white vinegar cleaning
Feed the fish not more or less than 3 times a day
Add fertilizers for healthy plant growth to help fish with quality oxygen circulation
Take advice from people at stores or in the community through forum posts and such
Maintain the best water quality at all times
All these approaches are extremely beneficial. When you have done the work sufficiently, you will develop a good heart for everything around you. This is what usually happens when passion is expressed the right way.
FAQs
What is the maximum number of fish to keep in a home aquarium?
The highest number of fish to keep at an aquarium should be around 8 to 9. If you have goldfish, don't go more than 6. Sell all the excess fish that are appearing.
What is the most important factor to consider for selling aquarium fish?
The most important factor is to make the fish stay completely healthy. Maintaining good water quality will make the fish flourish and express themselves freely. This will easily attract buyers. 
What will make the fish free-flowing enough to be ready for sale?
To make the fish more free flowering, add a lot of varieties to the food. Also, add more plantations alongside clay pots all around. Add a river-like scenario to the water quality. 
Bottom Line
Exploring do I need a license to sell fish from home is a good deal. Hope you have found the answer considering the two scenarios.
We hope you get the most of what you desire.
Bye for now.